Winter Hours: October 1 - April 30
Time: 10:00am - 6:00pm Tuesday - Saturday
Noon - 6:00pm Sunday
Closed Monday
Admission: $9.00 - $18.00
RAREFIED LIGHT 2018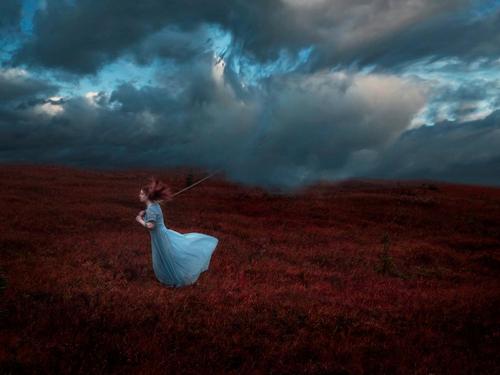 September 28 - November 25, 2018
This statewide juried exhibition of original works by Alaska photographers encompass two dimensional prints or three-dimensional objects and sculpture incorporating a photographic process. Organized by the Alaska Photographic Center, Rarefied Light was juried by fine art photographer Arthur Meyerson. The above image by Doug Yates won Best of Show.
LIBRERÍA DONCELES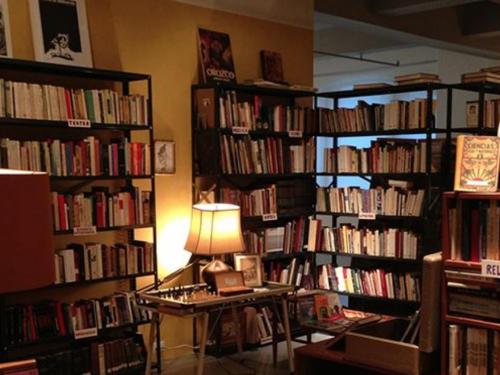 September 15, 2018 - January 6, 2019
New York-based artist and educator Pablo Helguera finds it remarkable that there is a scarcity of books available in Spanish despite the millions of Spanish speakers in the US. In response, he created Librería Donceles, an itinerant bookstore and meeting space carrying more than 10,000 books in Spanish.
Named for the historic street of used booksellers in Mexico City, Helguera's Librería premiered in Brooklyn, New York, in 2013. It has since traveled to Phoenix, San Francisco, Seattle, Chicago, Indianapolis and Boston, where, in each city, it has been the sole Spanish-language bookstore.
The temporary installation opens in the Anchorage Downtown Transit Center (630 G St., Suite 114) and also functions as a community meeting place hosting bilingual conversations, performances and workshops designed to encourage cultural understanding.
Although the books within it are Spanish-language specific, Librería Donceles reflects on issues pertinent to all people who speak languages other than English: access, equity and inclusion.
The Museum is interested in the idea of literacy as encompassing not only reading and writing, but also skills that enable meaningful participation in society and in life. Librería Donceles provides a platform for doing just that: a space where teaching and learning can occur, where different narratives about our city can be explored, and where people can connect, relax and enjoy each other's company.
THOMAS CHUNG: EVERYTHING IS SACRED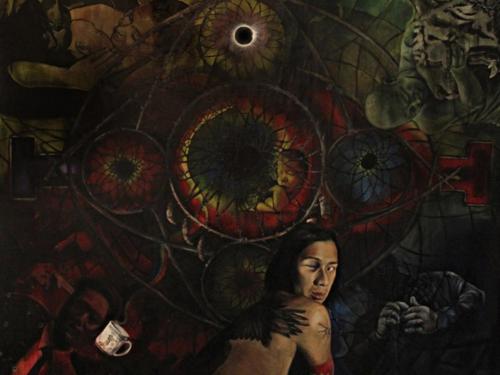 September 28, 2018 - January 20, 2019
The fluidity of culture has long interested Anchorage multi-media artist Thomas Chung, a third-generation American of Chinese heritage who grew up in Hong Kong and New York and is now an assistant professor of painting at the University of Alaska Anchorage.
Always strongly connected to painting and drawing, Chung's body of work blends satire and mysticism through performance, large-print photography, installation and sculpture. The large-scale paintings in this exhibition encapsulate cultural motifs from a variety of cultures and experiences.
Chung uses his work to reach beyond words to illustrate and explore the duality of the sacred and profane and the interconnectedness of humankind and nature. Themes he explores include: identity, family, sexuality, spirituality, bigotry and addiction.
His paintings depict a world where beautiful and terrible aspects of society intermingle in a dream-like kaleidoscope, creating what he describes as a monstrous sublime. Although he paints in a realistic mode, his images are full of complex metaphor. He says his intention with his work is not to chastise or offend, but to offer a look at the spirit or mood of our times as shown through prevailing ideas and beliefs.
ELIZABETH EERO IRVING, SONGS OF THE RIVER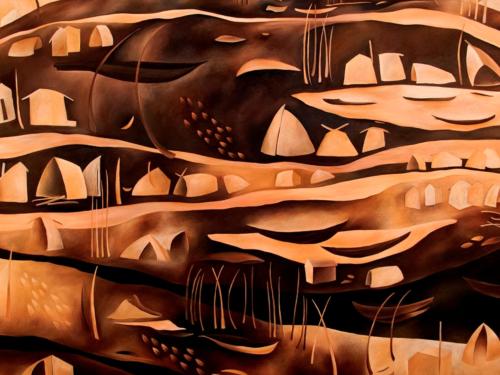 October 19,2018- February 3, 2019
Elizabeth Irving's paintings present a mythological interpretation of the Alaska landscape, reflecting a lifetime lived in the far North with formative years spent on the vast, silt-laden Tanana River.
She says her understanding of landscape is complex and personal, inspiring dreamlike images of landscapes in her paintings. According to Irving, the works in this exhibition use boat and river to symbolize the soul's spiritual travel from the earthly plane to other dimensions.
Informing her process in these works are stories from Egyptian lore, Native American spiritual rites, Greek mythology and stories from her own Viking ancestry. What results within the earthen hues of her large oil paintings is, in her words, "a metaphorical representation of change and transformation."
ALL-ALASKA BIENNIAL 2018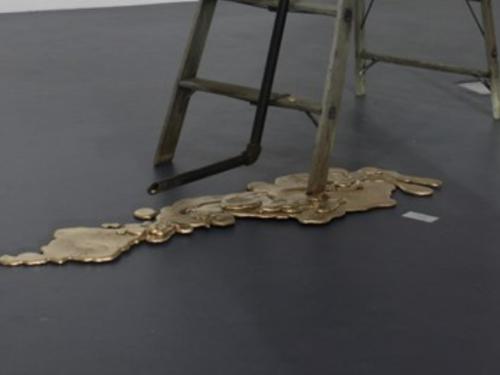 October 19,2018 - February 3, 2019
All-Alaska Biennial features contemporary work by Alaska artists. This juried exhibition is a continuation of the museum's All-Alaska Juried and Earth, Fire & Fibre exhibitions, which began more than 30 years ago to encourage creation of new works in all media by Alaska artists. Guest juror Candice Hopkins is a citizen of Carcross/Tagish First Nation in Yukon, Canada, and is an independent curator and writer based in Albuquerque, New Mexico.
The exhibition's call for entries drew 634 submissions from 161 artists. Works include drawing, painting, mixed media, craft, jewelry, fiber art, visual art, metalsmithing, printmaking, encaustic, ceramic, book/paper arts, photography and sculpture.
Hopkins selected Anchorage artist Kristy Summers' mixed-media piece Descend for the Juror's Choice Award, with honorable mentions going to Anchorage artist Christopher Judd's oil on linen on board painting, Grandma; and Anchorage photographer Mark Stadsklev's photography giclée print No Way Out. The exhibition travels to other Alaska locations throughout Summer 2019.
GERTRUDE SVARNY: UKUQANAADAN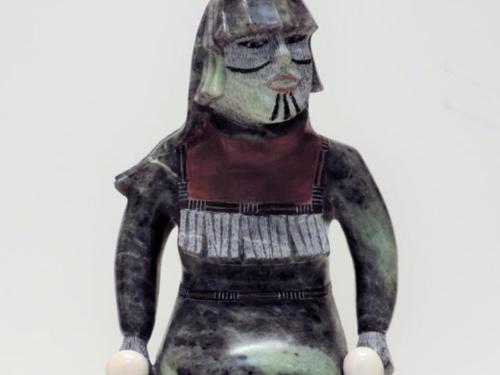 September 7, 2018 - April 14, 2019
Gertrude Svarny grew up in Unalaska until she was evacuated and interned during World War II along with nearly 900 Unangax people of the Aleutian and Pribilof Islands. Those who survived and returned home found their communities ransacked and burned. Today, Svarny lives in Unalaska, where she makes her artwork.
Although Svarny painted in her younger years, it wasn't until age 51 that she dedicated her life to making art. She is an accomplished weaver, bentwood artist, and ivory and soapstone carver. Within all of her works are traditional materials — pigments made of local minerals, decoration created from sinew, seal intestine and sea lion whiskers — and a distinct interpretation of Unangan history and culture.
Svarny's work is housed in numerous permanent collections around the world. In 2017, she was honored with a Distinguished Artist Award from the Rasmuson Foundation and received an Alaska Federation of Native President's Award for her involvement in the arts.
THE POWER OF ENERGY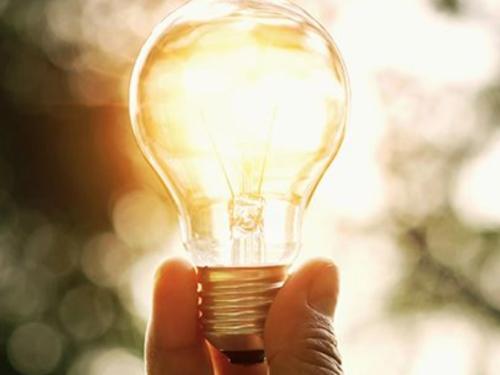 October 5, 2018 - April 21, 2019
We use it for everything from feeding ourselves to shooting through space, and yet energy itself is not easily understood. This exhibition presents unexpected discoveries about how we think and talk about energy, the concepts of embodied energy and energy density, and renewable energy sources, from the traditional oil lamp used by the Inuit, Chukchi and Yupik peoples of the Arctic, to the chemical energy in batteries that power today's electric vehicles. Through interactive displays, public discussions and educational programs, The Power of Energy recalls humans' first encounters with fire and draft animals, considers the myriad uses of energy in the 21st century and ponders what might be next.
AIVIQ AND NANUQ, SEA HORSE AND SEA BEAR OF THE ARCTIC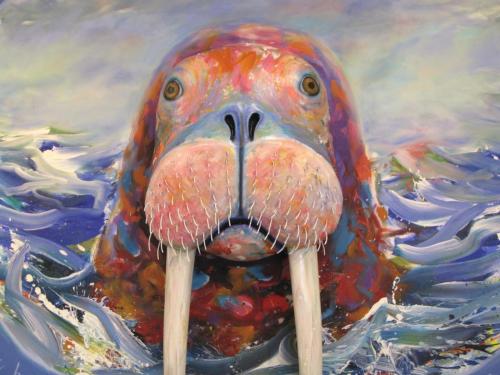 October 5, 2018- May 12, 2019
Perhaps no creatures better reflect the climate, landscape and culture of Alaska and the Arctic than the walrus and polar bear. Power and vulnerability coexist within these giants living in a massive Arctic – a distinct region known for its own striking contrasts. They are animals nearly without equal in size and strength. Yet perhaps their greatest strength – and weakness – comes from the ability to adapt to a changing world and a warming climate. Their lives have entwined with humans for centuries. To the first peoples of the Arctic and sub-Arctic, walrus (aiviq) and polar bear (nanuq) each have been predator, co-habitant, sustenance and spiritual ally. To generations of artists and culture-bearers, these remarkable creatures are both material and muse. They have been revered for centuries, studied by scientists, commodified by pop culture and manipulated by politicians. Through the lens of artists and artworks from Alaska and around the world, this 8,000-square-foot exhibition at the Anchorage Museum explores the ways these iconic animals offer important insight into the culture of the North and its complex future.