5 Best Christmas Events in Anchorage
A winter wonderland awaits you in Anchorage! Although Alaska has entered its season of darker days, that does not mean that you can't enjoy all things festive. There are numerous places to visit throughout Alaska to find the best of the best Christmas and holiday entertainment. If you are visiting Anchorage or are local to Anchorage and don't want to brave the winter roads, there is plenty to do right in town. Meet-n-greets with Santa; Christmas shopping with unique vendors; sing-a-longs-; zoo lights; even an 80s dance party are all available! So much joy packed into a month, and you can experience it all with this list of 5 best festive events in Anchorage.
1. Caring Santa
If you have a loved one in your life that needs a little quieter and less crowded scene to visit Santa, then this event is for you. On Sunday, December 1, 2019 from 10 am-11 am, children with special needs and their families can visit with Santa. Located at the Anchorage 5th Avenue Mall, the cost is free and you can register at www.eventbrite.com/e/caring-santa-tickets-77169944381.

If you don't have special needs but still wish to meet Santa, the 5th Avenue Mall will host him now until December 24th. Skip the line and reserve a slot at this link: https://www.santasfastpass.com/scheduling/3oBsjvg3:anchorage-5th-avenue-mall. You can even get a picture of your pets with Santa on December 8th.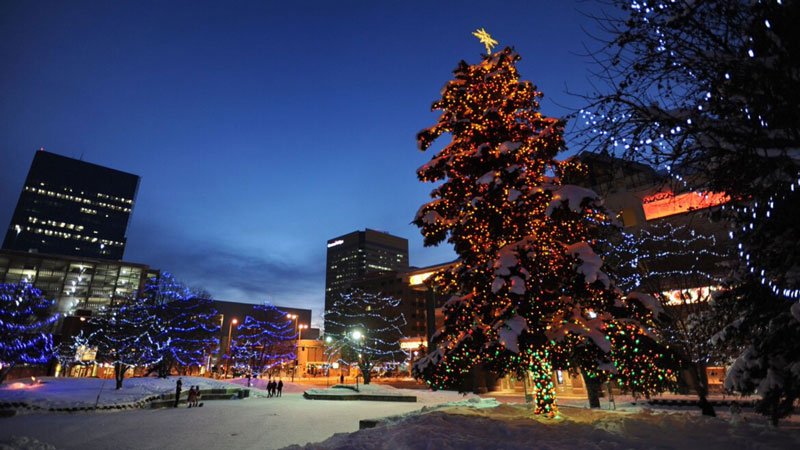 2. Christmas Village
This newer holiday show in Anchorage is the perfect place to be if you want to be a part of the biggest shopping day of the year. Christmas village is great to begin a new family tradition and stock up on all those last-minute gifts. Head to the Dena'ina Civic Convention Center on Saturday, December 14th, 2019 from 10 am–6 pm and enjoy lights, vendors, and the best of unique gifts. There will be imported arts and crafts, furs, gifts, and foods—all Alaskan made. If you wish to take part in the Christmas merriment by selling items, you can receive a $50 discount for renting more than one booth, or if you are a nonprofit, you can receive 50% off your rental. There is so much to see and do. Bring your kids too, as they will have the chance to see Santa and his elf, accompanied by blow-ups of Snoopy and other Christmas characters. To see a vendor list or to check our last year's photos of the event, check out their website at https://anchoragemarkets.com/christmas-village-anchorage/. Whether you are buying or selling, the Christmas Village will resonate that true Christmas spirit within.



3. Holiday Sing-Along
Christmas songs have long been on repeat by now and on Monday, December 16, 2019, from 10:30 am—11:00 am at the Alaska Zoo, you and your family can join in on a holiday sing-along. The Anchorage Opera Company's Kaylee Vardeman invites everyone to come wiggle and sing with her. The songs will be holiday-themed. The Alaska Zoo asks that you arrive early, so you have time to go through the admissions desk. The program will be held inside the Greenhouse located behind the Coffee Shop. If you are a member of the Alaska Zoo, use your card to get in the gate, otherwise, the admission fee is the cost of general admission. Adults are $15 (non-resident) or $13 (resident); Senior ages 65+ are $10 each; Military can get in for $10 each with valid ID; youth ages 3-17 are $7, and ages 2 and under are free.
4. Zoo Lights
This holiday spectacular is an annual event put on by the Alaska Zoo. From November 23rd- March 1st you can catch a series of holiday lights that gleam and shine in the night hours between 5 pm-8 pm. The cost for this event is $9 per person for non-members ages 3 and older. If you are members of the zoo it is only $7 per person. Ages 2 and under are free. Normal hours are Thursday through Sunday 5 pm-8 pm until January 31st. From February 1st-March 1st the hours are Thursdays-Sundays 6:30 pm-8:30 pm. This year, there is a Christmas Bonus. From December 20th to January 6th the zoo lights will be open every day. Make this event a gift and buy online Cyber Monday- December 2, 2019, at https://www.alaskazoo.org/new-events/zoo-lights-november-29-2019 for only $7 per person.



5. BBNC's Very Merry 80's Christmas Party
This non-traditional holiday event will fill your spirit and provide you with an unforgettable night. On Friday, December 6, 2019, at the William A. Egan Civic & Convention Center, the Bristol Bay Native Corporation will be hosting a Very merry 80's Christmas Party. Complete with leg warmers and teased hair! So, grab your best pair of dancing shoes and get your party on. The cost for this event is $40 and can be purchased at www.eventbrite.com/e/bbncs-very-merry-80s-christmas-party-tickets-80783456493. The doors open at 6:30 and you will get the chance to dance until 11:00 pm. Dress to impress in your 80's best!


Holiday's can be a stressful time. Don't let finding an activity be a part of that. Spending time with your loved ones is what the holidays are all about. It does help to have things to do so that you can fill up your time. Most of the time, kids are most excited about seeing Santa, so be sure to check out one of the two Santa events—either at the 5th Avenue Mall or at the Christmas Village. Once you have a meeting Santa checked off your list, venture to the Alaska Zoo for more entertainment with the whole family. Toddlers will have a blast with the sing-along and being able to see the glimmering lights with the Zoo Lights. To wrap up your Christmas, dance out the cold at the BBNC's Very Merry 80s Christmas Party. With whatever your holiday spirit seeks, this list of 5 Christmas events in Anchorage will leave you feeling merry and bright.